NEWS FLASH!!!!
Revolver will be appearing August 22nd, 2014 at the Pacific National Exhibition on the main stage re-enacting the Beatles appearance at the PNE's Empire Stadium 50 years ago to the day.
The entire evening will be staged as in 1964 with period outfits to be worn by the Vancouver City Police complete with period squad cars, motorcycles and much, much more.
This will be a world wide unprecedented event. Make sure you take in this monumental occasion when history was created in Vancouver.
Rock and Roll Hall of Fame recipient and legendary broadcaster, Red Robinson will be on hand to introduce all the acts just as he did in 1964.
Revolver's set will be as posted here (exactly what the Beatles performed) then after a short intermission, the band will be back on with their full show.
The last time Revolver appeared at the PNE main stage it set a record attendance for any act on the main stage to date. This promises to be the PNE's event of the summer.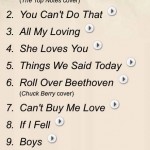 Enjoy History Here: