Cease & Desist just did a show last night in Hartley Bay, BC.
Hartley Bay is a First Nations community on the coast of British Columbia. The village is located at the mouth of Douglas Channel, about 630 kilometres north of Vancouver and 145 kilometres south of Prince Rupert.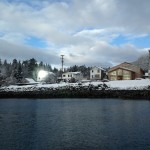 It became most famous for it's help in the rescue and care for all surviving passengers of the ill-fated 'Queen of the North' – part of the BC Ferries fleet of vessels.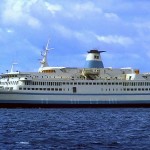 While travelling from Prince Rupert to Port Hardy, the Queen of the North sank after running aground on Gil Island in Wright Sound, 135 Kilometres south of Prince Rupert.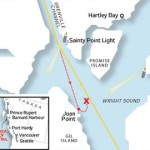 At approximately 12:25 am on Wednesday, March 22, 2006 the Queen of the North ran aground at Gill Island. The vessel sank approximately 1 hour afterward.
It's about a 20 minute to 1/2 an hour excursion by boat from Hartley bay to Gill Island.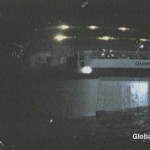 This from Wikipedia:
A large number of small fishing and recreational vessels from Hartley Bay were the first on the scene to answer the distress call, arriving in a fleet of small watercraft in the dead of night to pick up survivors. Joint Rescue Coordination Centre Victoria tasked Canadian Coast Guard vessels CCGS Sir Wilfrid Laurier, CCGC Point Henry, CCGS W.E. Ricker, CCGC Kitimat II and the CCGS Vector, along with 2 CH-149 Cormorant helicopters and 1 CC-115 Buffalo aircraft from the 442 Transport and Rescue Squadron at CFB Comox to the scene of the sinking.
Originally the evacuation of the ship was reported to be a smooth one; however, stories of chest high water and trapped crew members surfaced on March 24. According to the official BC Ferries press release, 99 of the 101 passengers and crew were safely evacuated with only a few minor injuries,[7] and many of them found refuge in nearby Hartley Bay.
Loss of life
Two people, Shirley Rosette and Gerald Foisy of 100 Mile House, apparently failed to reach the safety of the lifeboats and perished along with the ship.[8] While a passenger reportedly told police the missing couple were seen in Hartley Bay during the rescue effort, a thorough search of the small aboriginal community of 200 people by police turned up nothing. In addition the couple did not contact relatives after the sinking.
When the ferry was located by submersible, the two missing passengers were not found in the wreck.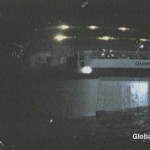 When I was made aware that we were to play for the very people that were the heroes in this terrible tragedy, I was humbled. I couldn't wait to hear of their heroics. Instead, they were incredibly modest and even somewhat soft spoken of that evening.
I had heard that BC Ferries, in honour of the people of Hartley Bay, were going to name their most recent vessel after them. (The Queen of Hartley Bay perhaps? – seems everything has to be a 'Queen' on that fleet), and yet all of the 'Super C Class' ferries that BC ferry Corps launched failed to have any acknowledgment.
When we were taken to our sleeping quarters after arriving in Hartley Bay, we were shown the breadth of the BC ferry Corporation's gratitude. A small metal children's playground.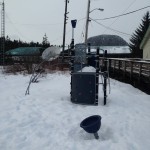 Okay – let's say the hamlet of 200 people needed it. Maybe they did. But lets take a look at the one they already had for their village children: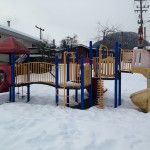 It appears to be a slap in the face. Now let's take into account that BC Ferries is now a 'private' company. They claim to be growing broke, and have raised fares over and over again since becoming 'private'.
I will now quote Steven Hume's article from the Vancouver Sun:
Stephen Hume:
BC Ferries a bloated, inefficient and recessionary drag on the province
BY STEPHEN HUME, VANCOUVER SUN COLUMNIST FEBRUARY 18, 2014
A central argument for privatizing British Columbia's ferry system was that a strict business model would prove far more efficient than continuing the system under provincial control.
Instead, the privatized model has yielded bloated management, lack of transparency, increasingly inefficient service and rapidly rising costs that now threaten perhaps $500 million in annual provincial tax revenue and place a recessionary drag on perhaps $50 billion in provincial economic productivity.
Thirty years ago, when Premier Bill Bennett's Social Credit government ran the operation, BC Ferries serviced 23 routes with 3,800 employees and a management/administration unit of 120.
Today, it services two additional routes, but has added about 1,000 employees and has a management/administration unit of more than 600, including — based on 2011 reports — 12 vice-presidents.
This works out to one manager for every 7.6 employees. Even if you remove several hundred excluded ship's officers from the equation, it still works out to about one manager for every 10 employees.
By comparison, Washington State Ferries, which operates under the state highways and transportation system and carries more passengers and vehicles (although with fewer vessels on generally shorter routes than in B.C.), runs efficiently with 43 managers — about one manager for every 40 workers.
BC Ferries spends about $12 on management and administrative overhead for every $1 spent on those costs by Washington State Ferries.
Compensation for just the chief executive officer and vice-presidents at BC Ferries in 2011 was $200,000 more than the spending by the Washington State Ferries system on management and administration.
In rationalizing bonuses and other perks for top BC Ferries executives, the ferry corporation's board of directors announced last year that the incoming CEO's annual compensation would be set at $500,730 for 2014, down markedly from the $915,000 paid in 2012.
Compare that reduced salary to the compensation Washington State Ferries pays its top executive — $152,000 a year with no bonuses because running the system efficiently, providing adequate service and achieving results is deemed the job description. BC Ferries pays its recently retired CEO a pension equal to twice the salary of the top Washington ferries executive.
At the Alaska Marine Highways System, which operates ferries serving far flung island and remote coastal communities in the Alaska Panhandle and the Aleutian archipelago — its southernmost terminal is in Bellingham, Wash. — the top executive earns earned $131,000 last year.
BC Ferries' comptroller earns $189,000 a year, about $50,000 a year more than the comptroller-general of the entire B.C. government, who is responsible for an annual budget of about $45 billion. BC Ferries' vice-president of information technology takes home double that paid the head of IT at the Health Ministry, which, as the Victoria Times Colonist noted in an editorial last year, has a budget 25 times bigger than the ferry corporation.
It's easy, looking at these numbers, to see why so many Vancouver Sun readers perceive that the government appears to have lost sight of the mission — creating and sustaining infrastructure that's installed to grow B.C.'s economic prosperity, not restrict it.
And remember, if government policy creates recessionary drag upon 20 per cent of the province's economy, it's not just a regional issue. It must inevitably hurt every household and business in British Columbia, including the Lower Mainland, for which ferry terminals at Tsawwassen and Horseshoe Bay are portals to a market equivalent to almost half the population of Metro Vancouver.
Among the most trenchant observations from readers is this one: If Transportation Minister Todd Stone were to order his government to apply BC Ferries' pricing and cost-recovery strategy to the new Port Mann Bridge, it would respond to falling commuter use by jacking up the toll for cars from $3 to $6.50, shutting one lane, and closing the bridge entirely during the morning and evening commutes.
This proposition seems absurd, but it's precisely the model being applied to the ferry system.
shume@islandnet.com
Please share your thoughts…. Mick