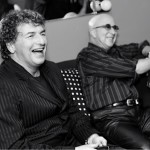 Probably one of the more memorable times in my life thus far. We were to shoot a live DVD in the infamous Roseland Ballroom in NYC (since torn down sadly). I LOVE NYC – always have from my first time there in 2007 (***). I had played there earlier with Randy Bachman's Band in 2008 at B.B. Kings in Times Square, but this would be on a whole new level.
The show was to be shot in 3D (that particular edit of it hasn't been released to date… but what I saw in the truck looked incredible). The set design was spectacular with beams and girders everywhere (best captured on the aforementioned 3D version)… but best of all, we would be closing the show encores with Paul Shaffer, the musical director from the soon to be ending David Letterman Show. I have admired Paul Shaffer since his days at Saturday Night Live and have been a huge fan of David Letterman's show. I always got a kick out of Paul's 'hipster' banter with Dave.
I was amazed that the Ed Sullivan Theatre (where Letterman's show is taped… and where The Beatles were unleashed to an unsuspecting North American audience on February 9th, 1964) was literally right out the back door of the Roseland Ballroom. The back door of the Roseland (where our production trucks were parked) was right across a narrow street (more of an alley) from the stage door of the Ed Sullivan Theatre.
As we prepared for our show, I got to develop a bit of a banter with the infamous stage hand for Dave's show, Biff Henderson. During the afternoon, Biff was usually poised outside the stage door as the guests arrived. This is where all the paparazzi and fans would wait to get their pictures and autographs as the Lettermen guests arrived.
Also across that street from the Roseland was The Hello Deli with it's owner, the loveable Rupert Gee from all the funny Lettermen 'man on the street' shticks from years gone by. I was surprised that when I returned to NYC quite a while later to play at Les Paul's Club in Times Square, I stopped by The Hello Deli and Rupert actually remembered me. I had invited him to the taping of our show, but he had to decline last minute and said so with great regret.
The day of the shoot we had an appropriately long sound check and then Paul showed up for our sound check and a run through before he was to go over and tape the Letterman show. He would then return when his Letterman gig was done and play with us for the 3 encore songs.
Paul was immediately a very cordial and talkative person. He loved swapping stories and we talked about Sault Ste. Marie. Paul was originally from Thunder Bay, and is a walking musical anthology. It must have started as a teenager for him, because he also knew every band from the 50's, 60's and early 70's that were from The Soo. Most of these bands never left the Soo, yet he knew all about them. It made me quite proud of my hometown and in awe of Paul Shaffer all at once. When I chance to play with him again 2 years later at The Walk of Fame Award Ceremony in Toronto, he remembered me and that I was from the Soo and we carried on our talk once again. Great great guy… We all talked for hours in the dressing room after the taping.
The next day, Kevin Duffy (our road manager) was able to procure some VIP passes to see a taping of the Letterman Show. We were escorted in the stage door and were able to watch all the rehearsals and prep. As I walked in, I literally almost tripped over the 'band stand' where The CBS Orchestra plays. Very heady stuff.
By the way, over the years you have heard guests on David Letterman's Show show speak of how cold the theatre is. No exaggeration. It's freezing in there… I guess Dave likes to keep his audience alert… 😉
Here's a video of TCB. Paul with B&T at The Roseland CLICK HERE