Originally Posted on May 16, 2015
I will be quite sad on Wednesday, May 20th, 2015.
My main reason will be that David Letterman is signing off… AND… I will have to record it. I am gigging that night. It's somewhat odd that I feel that I'm not going to be 'in the moment' by watching it later. Of course my feelings are silly; the show is taped at 5pm New York time… a full nine hours ahead of the Vancouver broadcast time… but when you're a fan you're a fan. I'm sure you 'sports people' get it.
I watched David Letterman from the very beginning (February 1, 1982)
I even watched his 'pre late-night' morning show (starting on June 23, 1980 until cancelation). As 'Late Night with David Letterman' on NBC grew to cult status in his after Johnny Carson time slot of 12:30 am, I would stay up whenever I could to tune in. Once I owned a VCR, I taped every show.
I was a true fan while my late wife Joanne Dalla-Vicenza​ barely tolerated it.
While she found him 'demeaning, arrogant, and mean-spirited', I found him 'cutting edge, irreverent and genius'.
As the show switched to mainstream ('The Late Show with David Letterman' debuted on August 30, 1993, on the CBS Network at 11:35 pm) Joanne was finally able to learn to enjoy him. I, however always missed that 'Late Night' edge. It was still there (and actually it still is). You can see the twinkle in his eye when you know what he 'really wants to say' regarding a given topic, celebrity or conversation with a guest.
I always wanted to be on the show and meet Dave. As that dream faded, all I wanted was to see the show live.
I went to NYC for the first time in 2007. Three days before I left the 2007 writers strike happened – which virtually shut down Broadway, including the Letterman show.
Here I have a picture of me pouting in front of the marquee…I also stood outside of Rupert Jee's 'Hello Deli' which is about 30 feet from the stage door to the Ed Sullivan Theatre.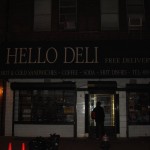 Luckily after that initial trip in 2007 I was able to play NYC a few times.
We recorded the DVD at the (now closed and probably torn down) Roseland Ballroom; the back door of which was across the street from the stage door to The Ed Sullivan Theatre where Dave's show was taped. I travelled across that street a lot (a narrow street – almost more of an alleyway)
Paul Shaffer was to make an guest appearance on the B&T DVD, so I was quite excited to meet Paul and actually play with him. I had long been an admirer of Paul's since his Saturday Night Live days, then on to the NBC show and then the CBS shows with David Letterman. His 'hep cat' irreverent quips always made me laugh.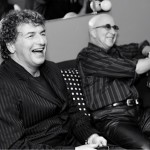 After sound-checking the B&T show, I was able to meet Rupert finally as well as the infamous Biff Henderson.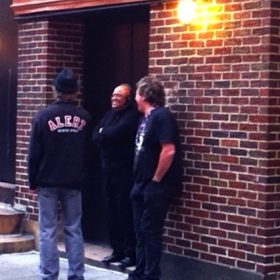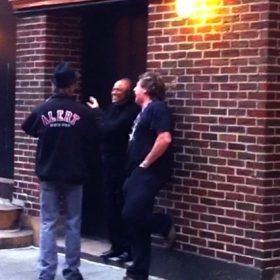 Rupert was kind enough to take a couple of pics with me. My friend Jeff Hendrick also caught some candid pics of Brent and I chatting and laughing it up with Biff that same day which he later sent to me. That day I invited Rupert to our show – but he regretfully had to decline.
The next day, our road manager, Kevin Duffy told me that a couple of us had VIP passes to watch a taping of the Letterman show.
Luckily I was one of them. A few hours before taping, we were escorted through the stage door across the stage (inches from Paul's set up) and into the front row. Where I walked was the very spot where on February 9th, 1964 The Beatles turned North America on to Beatlmania on the Ed Sullivan Show. Yes that's the very same stage.
So – We watched all the rehearsals for the day and were then escorted up to our seats in the theatre. To watch the show live was a spectacular experience for me – surreal actually. I had wanted to see the show live, but never expected that I would actually be an invited guest to the show.
Here's a break down of how the show goes:
To warm up the crowd, house comedian Eddie Brill comes on and is very, very good at his job. He then introduces all of the band members one by one as they come out to take their place on the bandstand, saving Paul for last of course. He then introduces announcer Alan Kalter and they banter a bit.
Now is the big moment when Eddie announces Dave to come out and warm up the crowd.
To thunderous applause, Dave comes out with white shirt and tie, does some hilarious stand up/slap stick styled humour and does a question and answer bit with the people near the front rows. As Dave is finishing talking to the audience, they band kicks into the Late Show theme song, and you can see the opening credits on the monitors placed everywhere in the studio. While the band is playing the theme, Dave walks past the band stand to the back stage area in his white shirt and tie, changes into his suit jacket and then does his now infamous run across the stage. All of this happens in real time (and very quickly) within the timing of the theme song with Paul and band. It's now show time.
The guests that night were Jake Gyllenhaal, Fran Lebowitz and Ne-Yo. I saw Ne-Yo rehearse his portion in the late afternoon.
Here's a YouTube link:
https://www.youtube.com/watch?v=khbAuABoa6w
Incidentally, we went back to NYC to play Les Paul's Iridium Club a year or two later.
I went back to the Hello Deli. Rupert remembered me and we took a couple of more shots together which are the ones I have embedded here.
I never got to meet Dave, but I did work with Paul Shaffer again; this time at the Canadian Walk of Fame Awards in Toronto in 2012. He remembered me and that I was from The Soo surprisingly. We talked at length about all the musicians he knew of from there. He's a very smart and wonderful person as well as a walking anthology of all music and musicians everywhere it would seem.
I have always wanted to meet Dave. Sadly all I would probably be able to muster up is 'thanks'.
I'm sure he's heard it way too many times- as deserving as it is from all the people saying it to him.
He's a terrifically humble man. He doesn't like adulation it seems.
David Letterman is one of a kind and the world will change after May 20, 2015….
Thank you Dave…