These series of pictures are from February 2nd, 2007. The Randy Bachman Band were asked to open 'Winterlude' in Ottawa. It was a perfect day to do something I had on my bucket list… skate The Rideau Canal.
My niece Janine worked on Parliament Hill in Ottawa and met me at The Rideau Canal to hook up for a bit. She took these pics of me skating and some of the sites…
Skating the Rideau Canal in Ottawa – Winterlude February 2nd, 2007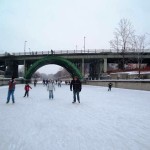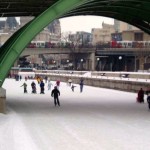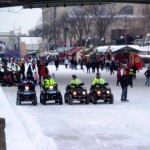 I found it unbelievable. I expected people to skate (of course…) and enjoy the uniqueness of it all (of course) but what blew my mind was the people in business attire with briefcases etc. skating to and from work or to appointments. They had a complete police force on hand (on quads) and food stands…. all along the canal….
It was an incredible thing to see….
That night we played outside… here's a couple of videos people shot. One of 'You Ain't Seen Nothing Yet' and another one of our 'Hey You Medley' where we tag a bunch of hit songs by other artists onto Randy's BTO hit for some fun…
YASNY: https://www.youtube.com/watch?v=2cY0r6CnvZM
Medley Portion: https://www.youtube.com/watch?v=eDx_vUClH38