The Way-Back Machine
I was born in the City of Sault Ste. Marie, Ontario Canada.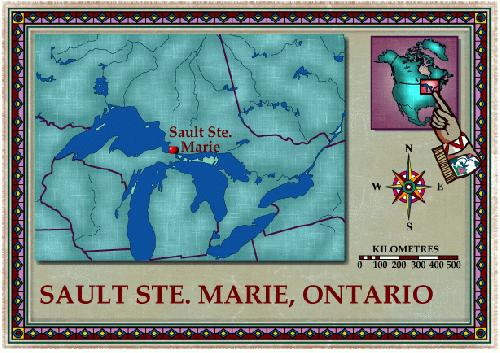 My mother had passed away from cancer when I was nine. Being kind of a lonely kid, the next two years of my life were spent 'noodling' on every instrument my older brothers, Kenny and Jimmy, would bring home from their high school music classes at Bawating Collegiate and Vocational School
in our home town of Sault Ste. Marie, Ontario, Canada.
Bawating C&VS
Trumpet, clarinet, bass fiddle, bass clarinet – I tried them all while my brothers would be out on dates or at work. By the time I was twelve, I had settled securely on my brother Kenny's $17.00 Kay guitar that he had purchased from K-Mart with his summer job money. I had watched my brother play "Love is All Around" by the Troggs very carefully. When he left, I picked up the guitar and played it. By the time he came home, I had it down, much to his amazement. From that day on, with Kenny's help, I spent most of my time trying to learn every song I could. The Beatles songs were a natural favourite.
One sunny afternoon about a year later, I was really bored. My brother Dennis and his wife at the time, Bobbi, took pity on me I guess, and brought me out to where Bobbi's parents and brothers lived; Landslide Road, which was about 5-6 miles from where I lived on Greenfield Drive in Sault Ste. Marie, Ontario.
Little did I know at the time, but Landslide Road and it's surrounding neighbourhoods and people would become pivotal in my musical and adolescent development.
When I arrived on that warm summer's day, I found that Bobbi's brother Danny Speers also played guitar and loved the fact that I knew so many Beatles songs. He asked me to play everything I knew at that time over and over again so he could learn what I was doing and, by the end of that day, we had decided to form a band together.
Being that Danny and I both played guitar, we tried unsuccessfully to teach Danny's friend, Brian Rouse, to play bass. Brian knew a guy who had recently bought a set of Silvertone drums, Timmy Huot. Tim joined the band almost immediately, and had a liking for all the same music we did. Timmy's brother, Rene, played bass, but already had a band that had amplifiers and everything. They were light years above us and played at teen parties. We were little kids compared to Rene. He was, after all, about 3 years older than us.
We started practicing in my basement on Greenfield Drive. Although everyone else lived 5-6 miles away on Landslide Road, my dad's basement became our first practice space due to the fact that Rene's band practiced in the Huot's basement, and nobody else in our little group had a basement for all the noise. Bands NEVER shared rehearsal space in those days.
It should be noted here that we also incorporated a keyboard player into our band who moonlighted with Rene's band as well. His name was Kimmo Karlella, and his parents operated a dance hall/lodge at Hiawatha Park, just up the hill on Landslide Road. Kimmo was fairly creative (that was the first time I heard anyone play their own music), but he lacked the 'ear' to learn other people's material. Considering his shortage of talent, Kimmo kept working in those days mainly because he had an organ (big money in those days) and his parent's ran the coolest spot around. You could have a dance there for free if Kimmo was in the band.
Kimmo's time was short-lived, however. He didn't play with either group for that long and I believe he gave up on music entirely very quickly after that.
In time, Rene realized that our little band (at first called "Hossenfeffer" after a Bugs Bunny cartoon I had seen) was starting to sound a little better than his band. Rene, like his little brother Timmy, had a good ear for music and it was becoming increasingly clear to him that his band (I can't recall what they were called) were very limited in their development. Rene decided to quit his band and join us. Now we could practice on Landslide Road (where the Huot's lived) and the only one who would have to commute to have practices would be me. Being that Brian Rouse still couldn't play bass guitar, Rene made a wonderful addition to our little band. Not wanting to hurt Brian, we 'promoted' him to 'manager'.
We practiced and played hard and became like brothers. Music can do that to people; having that common thread amongst us. Sometimes I would almost live at the Huot's house. Mrs. Huot was a charming, loving and supportive woman. Mr. Huot, for the most part, mainly just put up with the band because he felt it kept his kids out of trouble – sort of. It was my first taste of really 'belonging' and feeling appreciated for my talents. The Landslide Road girls were beginning to notice me too, which was extremely cool in my eyes. My own neighbourhood still treated me like a dweeb, yet here I was a small time hero, just a few miles away.
Mr. and Mrs. Huot decided we could have small dances in their basement where the band would play. I think we charged a quarter to get in (Brian Rouse doing his manager job at the door), and we sold chips and pop as well. We used to have some pretty big audiences at those parties, and considering the meager admission price, we would usually make about 3-4 dollars each from them, which supported our juvenile cigarette habit for a week, if we were lucky. My brother Kenny (remember – he taught me how to play) played in a 'real' band which even did nightclubs in those days. He had a big Ampeg B-2 bass amp with a 2X15″ speaker cabinet. It was massive. When we did these dances, he would let me use it for my guitar, and since it was the only amp big enough to put a microphone into it as well, I inadvertently became the lead singer.
Danny's brother John Speers who, like my brother Jimmy, fancied working with electronics, got down to work fashioning our first P.A. system. It mostly contained tubes and chassis from old radios, I believe. Although the PA looked impressive (to us, anyway), the wattage was very low, and considering the 'grill cloth' we used on the speaker cabinets didn't 'breathe' at all (meaning the sound didn't go through AT ALL), you could easily shout louder than the P.A. itself. On our gigs playing in Huot's basement, I went hoarse regularly screaming over top of the instruments, mainly because my natural voice was louder than our little P.A. – but hey – it looked cool!
My brother Jimmy took an old juke box chassis and tubes and made me my first guitar amp. He made me two more as well. One was styled after a Fender Bassman amp and another after an old Epiphone amp. He had found the schematics in a book he had purchased somewhere. He would also build my speaker cabinets that were considerably more efficient than our 'John Speers PA" models. I used those speakers right up until I left to go on the road. They actually worked quite well.
Around the same period of time, by taking out the Canada Savings Bonds that my mother had started for me at the age of 6 to go towards college, my dad allowed me to buy a $250.00 used
1963 Epiphone Wilshire from Gartshore's Music Store in downtown Sault Ste. Marie. I hadn't owned my own electric guitar until that point, and had to borrow guitars from people so I could play my little 'gigs'. This was wonderful!!!
1963 Epiphone Guitar – this is pretty much what the first Guitar that I ever bought looked like.
On top of that, for Christmas my brothers and my father all pitched in to buy me my first "Shure" microphone and a boom mic stand. I was now 'styling'.
Soon, we felt that Danny Speers' musical prowess wasn't growing as quickly as the rest of us, and animosity was starting to rear its ugly head. We parted company. Unlike Brian Rouse, this was not an amicable split however, and it dissolved Danny's and my friendship immediately. It was very sad, because I really cared for him. He was hurt, and rightly so…
NOTE: Danny got the last laugh though. He eventually formed a band with a new kid in the Landslide Road neighbourhood, Steve Ashman. Steve sang like a bird and was a good little drummer. They called their band "Jaded Spectre", and I was there to see them compete against Balderdash and a host of other local bands at a Yamaha sponsored "Battle of the Bands" at the Korah Collegiate Auditorium. They were great!
I thought their original songs were very good as well. Oh well… Lesson learned.
My brother had started playing in a weekend band while he went to Cambrian College (now Sault College) and brought me down to one of their rehearsals one night because I had nothing to do. During the rehearsals these two young girls (sisters) walked in and the band asked if they wanted to sing. They said yes and I sat back to have a good laugh, expecting the worst.
I WAS FLOORED!
Rosanne and Pauline Bourgoin had been singing together since they were toddlers and they had a blend with their harmonies that I had never heard live before.  I used to sit in on most of my brother's band's rehearsals to learn whatever I could. Even comparing with all of Sault Ste. Marie's finest lead singers in my brother Ken's band's throughout the years, these vocals were at a completely different level!
I didn't even really talk to them that night, but man – what an impression!
By now, Timmy was getting to be a pretty good little drummer. My brother's band needed a sub one night for a wedding they were playing at the Elks Hall on Bay Street, and Timmy got the call. I was at home that night doing nothing when my brother called me to get in touch with Rene and get our butts down to the hall, because he wanted to show our band off at the wedding. He had asked the bride and groom if his kid brother's band could play and got the necessary permission.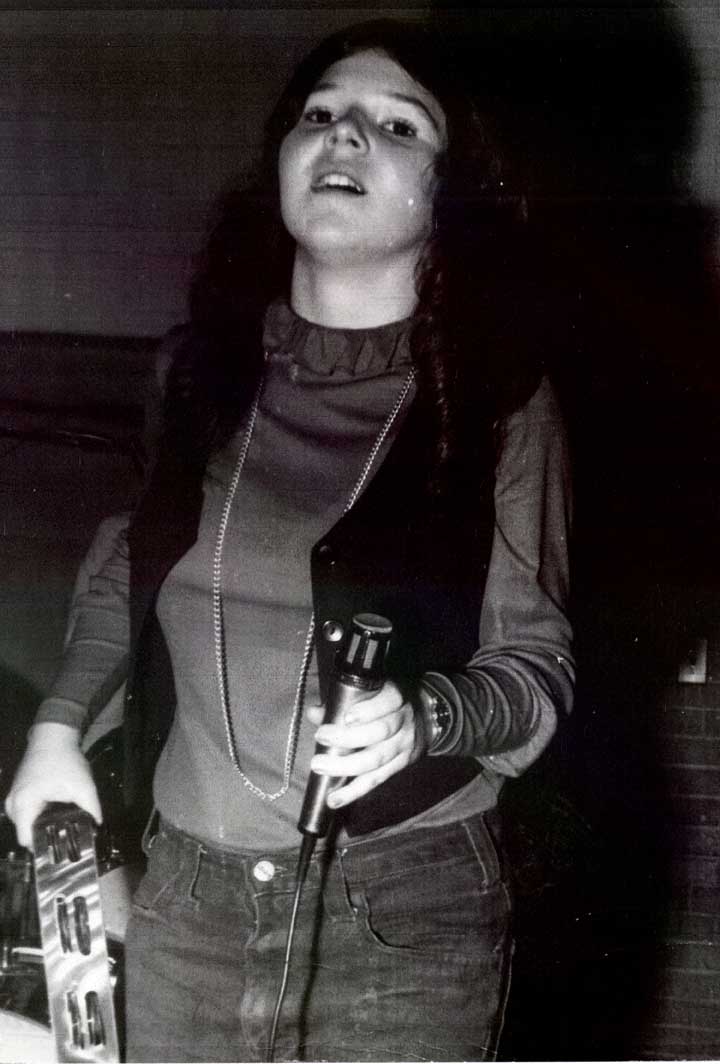 When we arrived, I saw those same two girls there with their parents (I guess they knew the newlyweds), and that Timmy had become quite friendly with Rosanne,  the older of the two girls. My brother Ken had Tim, Rene and I go up on stage and we played several songs to very good response. It felt great.
Pauline Bourgoin-Parent — playing with my first band Balderdash, many years ago.
Then the girls got up to sing with my brother's band. They tore the house down! They were so incredible!
I then found out that Rosanne was 12 and Pauline was 11!!! They did carry themselves to look much more mature than that however.
Left to Right Pauline Parent, Myself and Rosanne Swift, Sault Ste. Marie – August 12th, 2002
My brother's devious plan had worked. By the end of the night we had received permission from the girl's parents, Mr. and Mrs. Bourgoin, that the girls could join our band. Thinking back on it now, it must have been an incredibly difficult decision for the girl's parents to make, letting their beautiful young daughters hang out at rehearsals with young boys until all hours of the night – school nights included. I never forgot that and Laurier and Yolland Bourgoin are still very dear friends of mine to this day.
Although personality conflicts sometimes stood in the way (Rene was almost ready to get married and a girl in his band was eleven years old!), the band gelled rather quickly. Pauline's ability to find a harmony literally anywhere (her ear still blows me away to this day) became the band's trademark.
"Balderdash", as we were now called, had the best vocals around as Timmy had also turned into a good little singer too. We had some very impressive four part harmonies considering all the singers were between the ages of 11 and 15 and that this was literally everyone's first band. Considering we were a three piece band with just the two girls out front, we did everything from Edgar Winter Group material to Chicago, to Beatles, Stones, Chi Coltrane, The Hues Corporation; we covered a lot musically because of those immense vocals. We were starting to play a lot of high school dances and weddings in those days for the amazing sum of $150.00- $180.00! After rentals of PA etc., it worked out to about $25.00-$30.00 each on a good night.
I felt that we may be able to go one step higher with another guitar player which would allow me to 'wail' a bit and possibly even play some piano in the band, if we could afford one (what was I thinking? I didn't even play piano). Enter Bob Forbes. Bob was a likable guy who I had met through my drummer friend Jon Frolick. They both taught at Killoren's Music School in the Soo and when I had told Jon my desire to find another member for Balderdash, he quickly suggested Bob.
Bob entered the band just before our great 'road trip' to Dubreuilville to play a wedding. Dubreuilville is a legend within itself.
Built by Dubreuil Lumber, Dubreuilville was a logging community about 2-3 hours north of Sault Ste. Marie. They had built an entire town for all of their workers and their families, with stores and businesses with a big rec centre in the centre of town, which is where we played.
The gig went very smoothly… incredible as a matter of fact. I remember they applauded our intro to "Killing Me Softly" as if we were the original artists – my first taste of how exciting it can be to play at that caliber. They were treating us like stars and it felt good to all of us.
However, the wild west was still the law of the land in Dubreuilville. After the gig was over the streets went ballistic. I don't recall fights or anything of that nature, but it wouldn't have taken a whole lot to start one. They had no police force up there to speak of, so vehicles with no windows or doors and sometimes even no roofs (driven by whoever and whatever wanted to drive them) were all over the place. It was a crazy place!
Playing in Dubreuilville With Balderdash – Left to Right – Mick Dallavee, Bob Forbes, Pauline & Rosanne Bourgoin, Rene Huot (behind Pauline – Tim Huot)
It seems that not too long after he had joined, Bob left the band. He wasn't making the big difference I had hoped for anyway, and, I guess, he wanted to do something else. I never really heard from Bob again, and have no idea what's happened with him. Life can be that way.
Maybe he'll email me someday….
In time, Timmy and Rene became more and more obsessed with their motorcycles and the band's predominance in their lives became a thing of the past. Although I had sometimes made the 5-6 mile trek to their house for rehearsals, they often had 'other things' more pressing on their minds it seemed, and nothing musical would be accomplished. Rosanne, Pauline and I felt a lot of frustration over this, and dissension started to set in.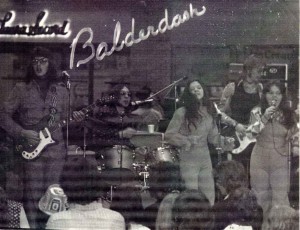 One of the last Balderdash gigs
Station Mall, Sault Ste. Marie, Ontario, Canada
The band quickly dissolved. By early 1975, it was pretty much history, although we did play a couple of gigs. One of them was photographed at The Station Mall in Sault Ste. Marie by my brother Dennis…
One 
During this time (1975) I had received two offers to go on the road. I was almost eighteen at the time, and working at "Soo Piano" on Queen Street in downtown Sault Ste. Marie. The store's proximity to most of the major nightclubs in town made it a regular stop for 'traveling musicians' to buy their strings etc.
I had received an offer to 'hit the road' with a 'Show Band' from Chicago called "Don Dino and Mark Five" that had made a stop at the Sault Ste. Marie Holiday Inn for two weeks. They were tailoring a very well crafted show to 'make it' in the Las Vegas type of markets. I really enjoyed their performances but, obvious to me and my cronies, their guitarist was a weak link. They were about a 9-10 piece band, I believe, with a front man. They regularly came through the store during the afternoons and 'Don Dino' heard me play guitar on one of those occasions. I almost considered his offer and met with him on several occasions during his stay in the Soo, but there was a better offer that had already been made to me earlier that year….
The Beginnings of the BIG THING
Frank Elliott
The Bawating High School music department (the real reason I went to that school) was headed by one of the greatest high school music teachers of all time, Frank Elliott. The numerous awards The Bawating Concert Band received over the years were a testament to Frank's ability to get the best out of everyone at all times. Anyone who went through that music program adored that man.
I was lucky enough to be recognized around Bawating as a talent that stood out a bit (as far as the 'rock musicians' went – the brass and woodwinds players in the actual Bawating Concert Band were all second to none). There were three others from Bawating that people regarded that way…
One was an amazing drummer a few years older than me with tons of energy and a cock sure attitude named Brien Armstrong, who had left the Soo while I was in grade 10 to go on the road.
He very quickly ended up in a band backing up The Fabulous Platters (the source of a ton of very funny stories in themselves) and traveled a bit of the world including the island of Guam which made the entertainment section of The Sault Star – a very big deal to us Bawating kids.
He came back a year later and grabbed Bawating's (and possibly Sault Ste. Marie's) best guitarist, Jeff Neill, to join that band. Jeff had completed high school by that time and was free to go.
During this time, my friendship had increased dramatically with a very talented guy by the name of Michael Sicoly.
We developed quite a 'musical brotherhood' between us.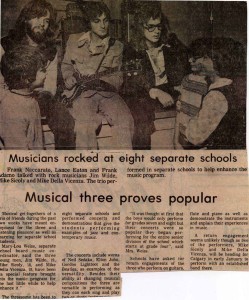 Jim Wilde, Michael Sicoly and myself  doing a tour
of elementary schools in Sault Ste, Marie  (May/June of 1975)
Michael Sicoly – high school picture
Mike and I had hit it off one day in the Bawating band room when he heard me do the opening guitar phrases of "Octopus's Garden" by The Beatles. After that we became pretty quick friends. While I played in "Balderdash", Mike played in a weekend band with his father called, "Solid Gold". Two "Beatle Freaks" we were – still are, I guess. Mike turned out to be (and still is) one of the most talented people I have ever met. He had an amazing ear for chord structure and musical intervals that intrigued me, while he was always impressed with my ability to 'hear' what key a song was in out of thin air. In 1973, we even formed a little band, with Timmy on drums (Rene was working full time at the Abitibi Pulp and Paper Mill by that time and couldn't play every night on top of that), that played downtown at the "Lock City Hotel" Monday through Saturdays for $96.00 each per week.  We had a pretty good run there. We were packing the place!
Mick in Grade 11
Unfortunately, we were packing the place with underage friends and people like us from Bawating – I was 15 at the time and Mike and Timmy were 16. One day the place was raided and we were busted. When we appeared in court, our fine was set at $50.00 each which we subsequently made back when we were asked to be witnesses for the Crown Prosecution against The Lock City Hotel for serving minors. Ironically, I never drank the whole time I was there, being under the mistaken impression that the police wouldn't charge me if I was just "playing there". Mike and Tim had a great time and ended up with the same fine! Bummer! Another issue was that it was raided after our second set on a Saturday and we were promptly sent home by the police. Consequently, we didn't get paid for that final week. The Lock City Hotel still owes us the $288.00 + interest to this day! We may have trouble collecting by now though…
Back to the story…
About 7 months after he had left to go on the road with Brien, Jeff came back to Bawating for a visit, walked into the school hallways in between class times and asked Michael Sicoly and I if we would consider going out west when were finished our school year. He wanted to start a new band and use the connections that he and Brien had already gained in the Canadian western provinces to establish this 'new band' quickly. Jeff said he would consider it to be a 'super group'. Mike would have graduated from Grade 13 by that time and I would be finishing my Grade 12 year.
My dream band!!!! I couldn't believe I was even considered to be in the same league as these guys!!!
After weeks of pondering, my dad felt it was best if he let me quit high school and go on the road.
A very tough decision in retrospect, but he believed that it was to be a great opportunity.
Smart guy – it changed the course of my life.
On January 2nd, 1976 Michael Sicoly and I boarded a plane headed for Vancouver, BC, Canada.
Remember – the band had ever played together before.
For the most part, we didn't even hang out together before this.
It was a complete gamble.
It was, what a lot of people in the Soo referred to as, "The Cream of the Crop"
Shama's First Night
Vancouver, BC, Canada
January 2nd, 1976
This band was to become: SHAMA