Randy Bachman Does His Jazz Thing Too, At Massey Hall (With Special Guest Guitarists Jeff Healey and Duke Robillard)
[from jazzreview.com]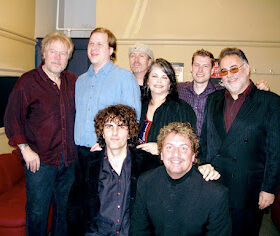 Concert Review by: Joe Curtis
Venue: Massey Hall (Toronto, Ontario, Canada)
Friday April 13, 2007 –
It was certainly a truly historic musical celebration of the blues, jazz, folk and some Middle Eastern musical influences at Toronto's Massey Hall, Friday, April 13, 2007. It was just the opposite of a 'bad luck' evening of music for this '13th' — courtesy of three of the most renowned and respected guitarists around: Randy Bachman (Guess Who/BTO), Jeff Healey, and Duke Robillard (Roomful of Blues). It was also historic in the sense that it was the first time that Bachman ever performed at Massey Hall, and was also the first time he ever set foot in the place. He mentioned in a radio interview a few days earlier, wishing he had seen Gordon Lightfoot and others here over the years. Also part of the lineup this night was singer Denise McCann (Mrs. Randy Bachman).
Much of the earlier part of this show featured Randy and his band, including Mick Dalla-Vee on upright bass, Roge Belanger on drums and Chris Gestrin on keyboards. Bachman's rhythm section backed him on several of his hits, but in a rarely heard folk/acoustic style. These songs included "Ain't Seen Nothin' Yet", "Takin' Care of Business" and "American Woman".
Guitarists Jeff Healey and Duke Robillard joined Randy for most of the latter half and part of the first half of this great show, and each played some of their favorite songs in collaboration with one another. Bachman featured several songs from his recently released Jazz Thing ll CD, which he's helping promote on this tour. This most recent Bachman CD also features Robillard, as well as Jay Geils on guitar, along with Bachman; and McCann on background and some lead vocals.
Randy began this Massey Hall show with some material from his mentor and longtime friend since their teenage years, the late Lenny Breau. Randy's renditions of some of Breau's material, was a fitting jazzy intro, allowing listeners to hear Randy's interpretations of Breau's songs, and how he's progressed from a 1960s/1970s 'rock star', to a more serious jazz-side of his guitar playing. Bachman's Guitarchives record label features Breau's recordings available for sale. Guitarchives helps preserve these otherwise rare and hard to find jazz guitar recordings, for Lenny Breau fans and music collectors alike. http://www.guitarchives.com/
Denise provided background vocals throughout most of this evening. She and Randy both talked about their Randy Bachman Vinyl Tap weekly Friday and Saturday night radio show, which they co-host on CBC Radio One and Sirius Satellite Radio — and shared some of the funny stories their fans send them. http://www.cbc.ca/programguide/radio/
Denise was featured in a solo spot part way through this Massey Hall show. She sang a rousing and unique rendition of Aretha Franklin's classic "Respect" that was refreshing to hear, since it was different than the familiar 'Aretha' version.
Special guest classical pianist Stephan Moccio, joined the band part way through this concert and played one of his compositions on grand piano — adding an element of class to the proceedings. He went over well with the audience, and was an unexpected musical treat to hear.
Acoustics were great throughout the whole show. In fact, Jeff Healey sounded better than he ever has, to this writer, who's seen him many times over the years, performing at his Toronto night club, Jeff Healey's Roadhouse (formerly Healey's). Bachman made an impromptu surprise visit to Jeff's club the previous evening, and wowed the crowd there, for a few tunes near the end of Healey's weekly Thursday Night Special Guest night (although Randy wasn't the special guest himself). http://www.jeffhealeysroadhouse.com/
For those who aren't familiar with Jeff's 'jazzy side', he's also a highly acclaimed jazz artist on trumpet and lead vocals in his Jeff Healey's Jazz Wizards: http://www.jeffhealey.com/ They perform a weekly Saturday matinee at his club.
Jeff cheerfully mentioned previous happy times he remembers performing at Massey Hall. This brings to mind Jeff's appearance with Ronnie Hawkins, as well as Jerry Lee Lewis, Carl Perkins and members of The Band (including Levon Helm, Richard Bell and the late Rick Danko), at Ronnie's Let It Rock: 60th Birthday Bash at Massey Hall, in Jan. 1995, that this writer attended. (This concert is available on video and DVD at Hawkins' website: http://www.ronniehawkins.com/ ).
I also saw Jeff's memorable performance with guitarists Domenic Troiano and Buzz Thompson, at The Hawk's 'Tribute' show at Massey Hall, October 4, 2002, when former US President Bill Clinton appeared on two giant TV screens perched high above the stage, to say "Hi" to fellow Arkansas friend, Hawkins.
Jeff really outdid himself in his feature spot towards the end of this Bachman/Healey/Robillard guitar extravaganza, when he played and sang Louis Jordan's "Early Morning". Healey's outstanding vocals and guitar work on this song were both rejuvenating and entertaining to listen to, and reminiscent of a young Hubert Sumlin, c. 1962.
Duke Robillard left the audience awestruck, with his rendition of "This Dream", from his Guitar Groove-a-Rama CD. Duke played some intricate 'Middle East'-style guitar leads on this song – (which brought to mind the great Ravi Shankar's sitar excellence) — that were both breathtaking and astounding to hear at the same time. It was a dumbfounding experience, to hear these sounds coming from Robillard's hollow body Gibson semi-acoustic guitar, in a very sitar-like rendition. I've seen Duke several times over the years at Toronto's Silver Dollar Room, and he always puts on a superb show. But this night at Massey Hall, Robillard rose above his usual amazing playing, to hit a higher groove of excellence than I've ever heard him do before. http://www.dukerobillard.com/
Randy's stories of how he came to write various Guess Who and BTO songs over the years, really made the performance of these songs, much more special and personal. It was also rare to hear these songs in an acoustic setting that was extremely relaxing to take in.
Seeing Bachman, Healey and Robillard together on the same stage at the same time, was truly a very special and historic musical occasion that was not to be missed. To see how each guitarist fed off each other's imaginations and playing ability, and built on each other's leads and rhythms, was a rare treat for the senses. This Randy Bachman, Jeff Healey, Duke Robillard concert will surely be a memorable musical highlight for this writer, as well as for those lucky enough to be in the audience this night.