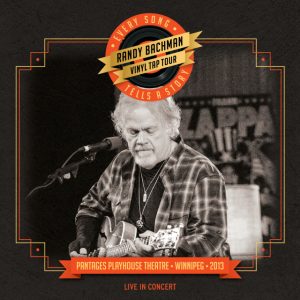 The Guess Who guitarist and Bachman-Turner Overdrive member, Randy Bachman, has released a live CD/DVD recording featuring many hits from both bands performed on April 4, 2013 to a sold out crowd at the Pantages Playhouse Theatre in Winnipeg Canada.
EVERY SONG TELLS A STORY Track Listing:
1. Prairie Town
2. Shakin' All Over
3. These Eyes
4. Laughing
5. No Sugar Tonight
6. No Time
7. American Woman
8. Roll On Down The Highway
9. Let It Ride
10. You Ain't Seen Nothin' Yet
11. Takin' Care Of Business
12. Hey You
13. Undun
14. Lookin' Out For 1
I remember that night well. Randy, Marc, Brent and I had a great time playing to a really receptive audience. You do not always get that kind of reaction. I guess playing in Randy's home turf has that sort of advantage.
Here is the amazon link if you want to pick up the album "Vinyl Tap Tour: Every Song Tells a Story".
While you are at it, why not pick up a copy of Randy's new Book as well, Tales From Beyond The Tap. It is an insightful retrospective of Randy's career, including all the ups and downs.