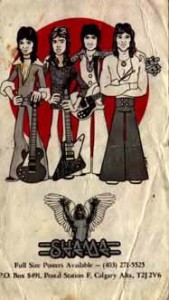 The year 1975 was a magical time for Michael Sicoly and I. We were so engrossed in going out on the road to become 'the next Beatles" we couldn't talk about anything else for months.
Although I hardly knew Brien Armstrong, Jeff Neill made sure to write us often from the road and call us whenever he was sure to find us at home to keep our 'road fires' burning. We were going ON THE ROAD… and not just to Toronto, which was usually the norm for a Soo musician's road trip. We were going for the 'BIG' commitment. No easy return home on this one. Our first stop would be Vancouver, British Columbia… 3000 miles away from home! Very, very exciting.
Brien and Jeff bought all the best PA equipment they could, a brand new Ford Econoline Van and a used trailer. The understanding was that as soon as Mike and I started playing on the road, we would give half our pay to one of the other guys (I would pay Jeff, Mike would pay Brien) until we were all equal partners in all of the assets. It was to be a true democracy as well as a very communal style of doing business. Everybody would make the same and we would take a wage. Our starting wage was $200.00 per week per guy, no matter how much we made, as Brien was very careful in making sure we had a ' financial cushion' in case of emergency. On top of that we always needed ready cash, as we were constantly upgrading our equipment (adding bigger and better PA etc.), and you could 'barter' better if you waved cash around. Eventually, this fund we built up added lights (including a follow spot), visual effects and even fire and smoke to our live show amongst other things. It also enabled us to get 'paid time off'. We would make the same wage per week even on holidays, which was quite marvelous, I thought.
I have to say – Brien was always the organized one, and if it wasn't for Brien's tenacity and vision of what could be, Shama would not have gone as far as it did. It was a talented band, but we HAD BRIEN – bottom line. Brien was mentor, father figure and all around problem solver for all of us. Brien was the type of young man who was going to make it no matter what… which is why he's as successful as he is today. I personally have nothing but admiration for him.
One of the reasons to go west was that "Barney", the band that Jeff and Brien were touring around with, had made a good name for itself in the western province's nicer clubs and taverns. The "Fabulous Platters" had become increasingly boring for these young guys who just wanted to rock, and they couldn't bear playing the "Platters Game" anymore – which was essentially 'THE BIG LIE". Nobody in the group was an original member of the Platters, yet they booked themselves as such. One of the reasons they were called "The Fabulous Platters" was just that. "Fabulous" was part of the name, not just a nice description – a legal loophole, apparently. Brien could write a book on the Platter's stories… they're very funny… but I digress…
Barney split from being the Platter's back-up group right at about the same time that Jeff thought the ideal band would have Mike and myself in it, which meant letting go of two guys who were in the band well before him – actually 'founding members'. Not a shy guy, our Jeff, but, giving him credit, he knew what he wanted back then. Plus, he also knew Brien would let those other guys know their time was up more diplomatically than Jeff would, so, I'm sure Brien did the dirty work.
One of the problems Barney had after the Platters was 'keeping' most of the rooms they had played with the Platters for Barney just by themselves. The rooms The 'Fabulous' Platters played were a better class of venue than the average 'rock room' but they demanded a 'show' type of band. Barney wanted to be simply a good rock band. If they wanted to keep playing these higher paying rooms with the nicely dressed women that had all of their teeth, they would need a show, or at least a front man.
ENTER "BARNEY" ELVIS…
All drummers are frustrated. They have to sit behind their kits night after night while the guitarists and singers shake their butts for the young ladies. Show me a drummer, and I'll show you a guy who can't wait to be 'centre' stage (Sorry about the spelling, our American friends – us Canadians do spell some words differently)
Brien loved Elvis, and figured that if he took his 'locker room' imitation and worked on it a bit, they would have a show that may allow them to keep those nicer venues with their better pay. Brien would design an "Elvis Suit" and glitter guitar while working on his "Elvis" moves and voice. For the duration of the set, Jeff would drop the guitar and become the drummer for the "Barney Elvis Show", which would be placed usually in the middle of the night. The boys figured it would kill two birds with one stone. They wouldn't have to hire another person to be a 'front man', and because they had somewhat of a 'show', they would be making bigger bucks. The problem was, they didn't want to be labeled a 'show band' – they wanted to rock.
REMEDY?
It was decided that they wouldn't do a 'legit' Elvis show.
"Elvis" would come on stage "drunk", tell horrific, tasteless jokes, and the show would be full of innuendo simply cutting the whole image of Elvis apart. 'Barney' could still be 'rockers', because, after all, they weren't really 'doing a show'. They were making fun of the whole Elvis impersonator industry. They were still rebellious youth! Problem solved!
"Barney Elvis" actually started packing houses. The people who understood the farcical 'humour' of it came for that. They also came for the extremely hilarious fact that half the people in the audience didn't understand that it was a joke. Women would still swoon like it was a Vegas act! You put the words Elvis on anything, and people will line up to see it. Of course, these people were the same idiots that would ask the band (including Brien) where 'Barney Elvis' was before and after 'the show', because they wanted to talk to him or get an autograph. They didn't realize that Brien WAS Barney Elvis. Makes you wonder…
Brien was the only one who kind of took his job as Elvis seriously, because secretly, it was nice for him to be the singer for once and be out front. The band made a lot of fun of him, but in retrospect, he actually did do a good job.
Another reason we were to put what was to be known as Shama together in Vancouver, was that Brien's brother-in-law and sister owned two houses on River Road in the Vancouver suburbs of Surrey and Delta. The house on the Delta end of River Road was rented out to colleagues of Shawn Wilson (Brien's brother-in-law and mentor at that time), but they said we could do our rehearsing in the basement there. The other house up the street in Surrey (where Shawn and Darlene lived) would be where we slept during this period. We were already booked well into the spring strictly on hearsay. Brien had convinced management at all of "Barney's" gigs that this new version of the band would 'eclipse' the other version of the band. Brien and Jeff had laid the foundation. All we had to do was deliver the product.
The Birth Of Shama
So… Mike and I landed in Vancouver on Friday, January 2nd, and had to wait until Monday to retrieve our musical equipment which was shipped out from the Soo by rail. We rehearsed the 5th through the 10th. On the 11th, we took a ferry to Vancouver Island (first time we had seen the ocean). "Barney" (we had decided to inherit the name for simplicity) was to play our first 3 weeks at the Barclay Motor Inn in Port Alberni. We would use this engagement to tighten our show up, and rehearse all the new repertoire we would need to play our shows across the prairies. This was also the first time I got to see "Barney" Elvis. When he came around the corner in the club while the band was 'vamping' on the groove for "Teddy Bear", I thought I would die laughing. But, like Jeff and Brien had told us, it went over. Thankfully, we had made appeals to the management at most places that we would only do "THE SHOW" on the weekends. Most of them were fine with that. We spent many nights staying up late after the gigs, while Jeff sat me down as my new guru and taught me things like: Aerosmith, why KISS actually had merit for what they were doing, and how to be a rock star. Jeff and Brien were both very aware of their image and worked on Mike and I to be the same. I also learned how to sing with a permanently hoarse voice. I had never stretched my range so far (Jeff wanted me to sing higher and higher notes) and I had also never sang so much for so long before. It was quite an awakening.
We finished in Port Alberni on Saturday, January 31st (actually 1:00 am Sunday) tore down, loaded up and drove straight to Red Deer, Alberta.
Vancouver to Red Deer alone in those days was a fifteen hour drive at least; worse with a full van and trailer loading us down. Add to that the 3 hour drive from Port Alberni to the ferry on Vancouver Island, the hour and a half ferry ride to Vancouver, and the fact that we were to start at 8 o'clock on Monday February 2nd at the Park Hotel in Red Deer and you're beginning to see the enormity of the task at hand. We weren't finished there though. We had left a box full of important cables behind and had to wait in Vancouver for the Greyhound bus to arrive from Port Alberni with our package before we could proceed. We were seriously on borrowed time.
We arrived in Red Deer on Monday February 2nd at about supper time, set up in record time and were shown our rooms. They wanted us to 'share' accommodation as they did with most bands and to use a 'communal' bathroom in the hallway. Brien (using his strategies from "How to Win Friends and Influence People"), convinced the owners of the hotel that we were far better than their average band, and had come all the way from Ontario to play. He promised them that a 'well rested happy band that was treated professionally' would put on a much better show for them resulting in higher revenues for the bar. We got our separate rooms with our own bathrooms! Yay Brien!
Port Alberni had been a bit of a 'sleeper' gig. It was fairly empty most nights until the weekend, when people would come out. A typical club. Nothing could have prepared me for Alberta.
It was the beginning of the oil boom in Alberta. Everyone had money, loved to spend it, and LOVED to party.
We walked into the Park Hotel bar that Monday, February 2nd half asleep, and were surprised to see it full. The minute we got on stage the place went ballistic! They loved the band!
Just some of the great press we got on our first gig in Alberta
I had never seen such a reaction from a crowd so quickly. Everything we did they loved. It was probably, still, one of the most incredible feelings I have ever had performing. That first one week engagement went by very quickly. Red Deer and Edmonton would become "our territory" very quickly as word spread about the band. It was in these two cities especially that it seemed we could do nothing wrong…
Reality struck the very next week immediately upon our arrival in Regina, Saskatchewan, however. Although the room we were playing was nice and quite large, we opened on Monday night to a handful of people who couldn't be seated further away from us. On top of that, they seemed to be having quite animated conversations with each other, while watching television during all of the 4 1/2 sets that we played. They ignored us totally, it seemed. The rest of the week was like that as well until the weekend, when we saw a lot more people show up. They seemed to enjoy us and we were now almost looking forward to our second week in a row there, thinking that we may attract more people earlier in the week because of what they saw on the weekend. It didn't happen. The second week was almost an exact replica of the first week. We were also informed on the first week that the keyboard player from the original "Barney" had sent us a "Cease and Desist" court order forbidding us to use the name "Barney" anymore. We had to come up with a new name quickly. Brien bought a Thesaurus and we went through a number of names we liked until we nailed it down to about five, I believe. We brought that list to the club that night and asked the audience to cheer for the name they liked best. On that night in the 'Sahara Nights' in Regina, 'Shama' was born. One of the descriptions in the Thesaurus for "Shama" was, 'an east Indian bird, noted for it's good song…'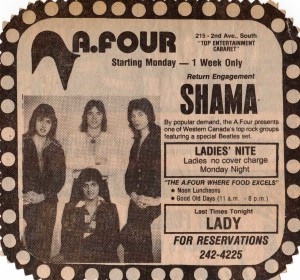 An Early Gig Advertisement
We felt it was an omen… and luckily, word got out quickly that the band was good, so we were able to keep our previously arranged bookings, even with the new name.
Thus began our love/hate relationship with Saskatchewan. The people there were friendly enough; they just didn't 'party' like the people in Alberta did. Ironically, we made double the money per week in Saskatchewan than in Alberta. We would tour these two provinces exclusively for the next two years. We would play Alberta to charge our batteries, and then play Saskatchewan to fill our bank accounts with enough money to ensure that we could afford one of the best touring shows around using all the latest lighting and production accessories..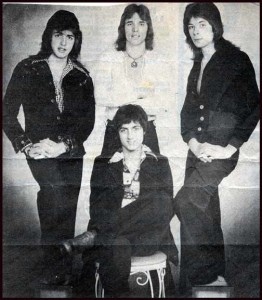 Shama in Yorkton Saskatchewan
The idea was to really build a huge following in the prairies and become somewhat of a phenomenon there, which would attract press and especially "Music Express Magazine" the Canadian version of "Rolling Stone", which was then based out of Calgary. That, maybe could attract what we really wanted…
We wanted Bruce Allen, who was based out of Vancouver, as our manager…. period. He was our 'Holy Grail". He had become Canada's biggest music manager in a fairly short amount of time with the world wide success of Bachman Turner Overdrive. We wanted that kind of success too. There was a book about Bachman Turner Overdrive out at that time, and Brien and I read it cover to cover, mainly to try to learn what Bruce was like as a guy.
We found out he was, as the 'vanity' plate on his 'Silver Vette with Gold Wheels' said, 'UNRULY'. We felt we could handle him though. He did have an attitude, but he was a business man, and so were we… well… at least Brien was. Well, if the truth be known, we secretly all felt Brien could probably handle him. Brien generally didn't back down from anything or anybody challenging.
We felt that if we could just create a 'buzz' in the prairies that was big enough, we could play Vancouver's hippest rooms the first time through, and maybe, just maybe, Bruce Allen would come and see us to see what all the fuss was about. We were afraid that if we played a 'lesser room' in the Vancouver market, we would never get the respect of the Bruce Allen office, and end up stuck in that rut forever. We could not sell ourselves short.
We would not go near Vancouver unless everything was in place. We felt that it had to be done just right, or we wouldn't get what we wanted.
We did get a lot of press. The early articles came when we played smaller towns like Red Deer and Moose Jaw. Eventually, Keith Sharp the editor-in-chief at Music Express Magazine became a huge fan and gave us unprecedented space in his magazine, which was usually reserved for big time recording acts. Being that the magazine did have global subscriptions, we felt very honoured by that. Our plan was working! We were achieving our goals one by one! Success was just around the corner.
We were , for all intents and purposes, booked AND managed by the Tom Nellis Agency which was based out of Calgary at that time. At first Dallas Goodmanson, from the Regina office, handled our affairs – then the man himself, Tom, became Shama's manager. We knew that it was just a matter of time before we would have Bruce Allen as our manager, and we were plainly biding Nellis' time, using the Nellis Agency as leverage mainly. We were their favourite band, and since Tom was 'our manager' we would get better treatment than most of their acts at all times. Our first demo recordings were arranged through those agencies.
Shama 1976
Dallas arranged our first session at an 8 track studio in Regina. The studio time was jointly paid for by a clothing store called "Gassy Jacks" and a record store called "The Record Factory". The idea was that we were to do two 'jingles' for them, with one of their DJay's applying a voice-over saying, "And here's Shama for 'Gassy Jacks'" or "Here's Shama for 'The Record Factory'". They mistakenly thought we would use all the time to record those jingles. We, of course, had better plans. Mike and Jeff had only worked on basic jingle ideas that we would quickly 'throw together' in the studio, because our real intent of course was to use as much time as possible to do our own songs. Studio time was expensive back then (even for a lousy 8 track studio), and we would make sure that our needs were met first.
We arrived at 'Cal-Art' Studios and set up early on a Sunday morning after driving from Medicine Hat, Alberta through the night. The engineer/producer was not quite as 'hip' as we would have liked. He was quite the opposite actually. We made fun of him the whole time (behind his back of course) and laughed uncontrollably at his "Official Voice" on tape. He had this thing for saying, "Such and such a song….in five" on tape before each take. We couldn't figure out what "in five" meant, and through all the years since of working in studios, I don't think any of us still know what he meant. Five seconds maybe? It was like a NASA countdown. He was fun to laugh at, and he became one of Mike's 'Van Characters' for a while after that.
Mike was/is quite talented at doing voice imitations, and he would keep us amused on long journeys in that van by pulling out his cast of characters to do 'skits' for us while we drove. Mike could imitate The Beatles talking voices perfectly to the point of where you knew each voice distinctly without him telling you. He's THAT good. One of my favourite "Mike skits" was when he would substitute The Beatles voices with Shama's daily dialogue. For instance, let's say the band had a 'discussion' or argument about some issue. Mike would retain most of what was said and later would recite it almost line for line, except that I would be John Lennon, he would be Paul McCartney, Jeff would be George Harrison and Brien would be Ringo Starr. What was once a furious argument would be quite hilarious when you listened to it as 'said by The Beatles"
Back to the session. ..We recorded 3-4 songs that day, I believe. I think we did two of Mike's including "Good-bye Money" and two of Jeff's including: "Friend Or Foe". I can't quite remember; maybe someone will read this and correct me. Regardless, as the day came to a close, we realized that we had about an hour left to do the jingles we were supposed to do, and they hadn't even been written yet. All of us gathered round and threw in our two cents worth to get those commercials written. Mike and Jeff came up with some pretty quick ideas for "The Record Factory" jingle, but we were stuck trying to finish "The Gassy Jacks" song. Mike had written the musical idea that started with the lyrics, "Get on down to Gassy Jacks" over a kind of (The Guess Who's) "Hand Me Down World" groove. We were having a hard time trying to come up with clothing words that rhymed with 'Jacks". I came up with the brilliant "Be your you in shirts and slacks"…killer line, huh? Because of the time constraints, it was actually used believe it or not!
We finished everything on time, and apparently they were happy with the results, because the commercials played for quite a while in Regina. We never heard them, but friends of ours in Regina in a band called, "Cambridge" (who were to became "The Queen City Kids") heard them a lot and apparently had quite a few good laughs at our expense.
In the latter part of 1976, we had already developed quite a following. People would actually travel great distances to come see us play. Fans would drive from Calgary to Edmonton (about 180 miles or 290 kilometers – Canada had switched over that year to the metric system), or even from Saskatchewan to Alberta or vise versa. It was amazing to all of us.
One of our fans from Red Deer who had become a friend as well was a guy named Peter Renault. He drove the 90 miles from Red Deer to Edmonton to see us. He also had a brother that was attending university in Edmonton to become a dentist. Michel (or Mike) was quite a music fan (as Peter was) and although he was supposed to be studying for his upcoming exams, he decided that coming to see us meant more to him, and he did just that about every night for our two week engagement at the Riviera Hotel in South Edmonton.
To make the story as short as possible here, Mike was going to fail his exams. As he was lamenting this to us at the end of our final week there, the idea arose that we needed a spotlight and someone to operate it. Someone who we could eventually train to become a sound technician for the band, because the show was heading in a much bigger direction in quite a hurry. Mike was a very intelligent guy, and was also a good looking guy (which we always tried to make a priority – we never wanted to be known as 'slobs') Edmonton had one of the few 'big time' lighting shops back then; a place called Monty Lighting. Being that our next gig was in a very nice looking room with great sight lines (in Prince Albert in Northern Saskatchewan), it would be a perfect time for Mike to get used to running a spot light. What the heck, he was gonna fail anyway! It was set – Mike Renault would become our first 'roadie'.
Mike had two concerns: his parents reaction and his girlfriend's reaction. Mike was an 'army brat' and his father ran quite a tight ship. Having his bright honour roll student son quit a promising university study to join a rock and roll band running a spotlight was not a fine idea in his books, and Mike was not looking forward to the call to his dad in Ottawa. Mike's girlfriend, Darcie attended university and lived in Boulder, Colorado in the USA. This wouldn't be exactly what she had in mind when she fell in love with Mike either. I still don't know to this day how he convinced everyone, but he stuck with us, and the music business has been quite good to him.
By the way, at the end of all of this, I will tell where everyone ended up and what they're doing now. At this time, let me just say that everyone who was part of Shama, from the band to the crew have had fabulous careers, and all of them are doing great. Very comforting.
Mike took to the spotlight very quickly (there's actually a bit of strategy involved), and it was quickly decided that we would also take our 'front end PA mix" off the stage, buy a 'snake' and allow Mike to run our sound from out front, like the big bands did. In about two weeks of Mike's joining, we traded in our two TAPCO 6 channel mixers (one was for the drums) and bought a new 14 channel Tapco mixer, a BAE stereo 10 band graphic equalizer and a snake. (Note: a snake allows you to plug all of your mics into a box on the stage and then run one thick line out to where the sound board is situated – much like a huge multi outlet extension cord)
With our Roland RE-201 Space Echo on the table with the board and the graph, and the spotlight standing there beside it all, we thought our 'out-board gear' looked pretty cool. The deal with Mike at first was, we would set up a 'mix' of the band in the afternoon 'sound check', and then at night during the show, Mike would stand there running the spot with one hand near the board so it would look like he was doing our sound as well. Since he really didn't know how to run the thing, we felt it was best that way until we could hire someone to train him on running live sound. It sounds very funny in retrospect.
Our first gig with our new system was in the Red Deer Lodge in, of course, Red Deer, Alberta. We had graduated out of the Park Hotel there (I can't remember why we never went back – money maybe?), and because of the huge devoted following we had in Red Deer, the agency had convinced the really 'upscale' Red Deer Lodge to have Shama for a week. The bar was huge in there, and was a perfect location to have our sound 'out in front like the big bands do'. We spent all afternoon setting it all up and running back and forth from the stage to the sound board to get all the tones and balances right. As it was with all of Shama's gigs at that time, people were starting to line up outside at 4 o'clock for our 8 o'clock show. We finished up and were ready with a little bit of time to spare, so a couple of us enjoyed the beautiful indoor pool and courtyard area. It was quite a place for those days.
That night the bar (as it always was for us in Red Deer) went ballistic.
Mike was grinning from ear to ear running his spot light with one hand and 'resting' his other hand on the sound board. Then it happened – it had to, right? The P.A. system let out a howl that could rival a 747 jumbo jet on take off. Mike looked at us in shock and was paralyzed. Jeff finally jumped from the stage and after finally getting to the board through the great crowds of people, shut the PA all down. Mike just kept shrugging his shoulders with an 'I don't know what happened' look on his face. We all figured we knew though. Mike had some attention around him. Not too many bands in those days had a real sound man with a real board and everything. People were watching to see what he was doing. After a long frustrating period of time, I'm sure he thought, "Oh heck. What could happen if I just touched this knob here?" Well, he found out in a hurry! It was decided that Mike needed training and fast.
In the prairies at that time was a band called "Witness". They were based out of Regina, Saskatchewan, and were by far, one of the greatest bands I had ever seen to this day. Several members (singer Kenny Shields, bassist Kenny (Spider) Sinnaeve, keyboardist Daryl Gutheil and drummer Bob Ego) eventually all went on to become members of "Streetheart", one of Canada's great bands of the 70's and early 80's. The guitarist, Bob Deutscher, went on to play in Crowcuss, another great Canadian band from the same time period.
One of the many great things about "Witness" was their sound and lights. They were operated by one person, a tenacious young man by the name of Guy Scott. Guy had that band sounding and looking good all the time – very pro in every respect. It was decided that we would look up Guy Scott, and ask him how much he would charge to come on the road with us for a week to train Mike Renault in the art of lights, and especially sound. We wanted to be the best sounding and looking band out there. We found Guy, agreed on a price and agreed that he would join us for the week the next time we played the Sahara Nights in Regina.
Mike was a quick study and Shama sounded great very quickly. Feeling that the only thing missing was a proprietary light man, we hired a guy from Medicine Hat, Alberta to become Shama's first lighting tech. 'Jigger' Schmidt was a promising photographer who we felt, because of his eye, could become a great light man very quickly (and he worked for very cheap – added bonus!!!) Jigger was quite a character who had all of us convinced that his birth name was 'Jigger'…I guess his real name (Ronald) upset him? I have no clue why 'Jigger' sounded better to him. I swear he would've fought anyone to protect his 'name secret' at the time too.
On a side note:
Ronald Jigger Schmidt ended up rising to great prominence in the photography world until cancer claimed his life on May 27th, 2003. NAIT College (Northern Alberta Institute of Technology) now has 'The Ronald 'Jigger' Schmidt Memorial Scholarship awarded to recipients reaching 'Academic Achievement and Technical Skills to a Graduating Student of the Photographic Technology Program'…
Congrats old buddy – you did good…
Within a short amount of time word got out that Guy Scott wasn't working for 'Witness' anymore – (I believe they had disbanded – as had another prairie group called 'Great Canadian River Race" (which had among it's members, Paul Dean and Matt Frenette) to form a type of 'supergroup' which ended up being called 'Streetheart'), so we asked him to join. Guy supplied a lot of gear to our show (for a rental price per week #@!$#@!) which enhanced our live show a great deal. Although Guy became essentially our 'lighting tech', he brought along with all of his lights (adding to our existing ones), some good 'Altec' speaker cabinets for us to have real monitors.
Guy was probably the most creative lighting tech I have seen to this day. the reason I say this, was his ability to get the best out of the least. One of Shama's secrets was the use of colour and height. Jeff was 6'4″ and wanted the band to 'rise' to his height. He would go barefoot, Mike Sicoly (at 5'10") would wear a certain size heel on his shoes and I at 6′ even would wear a bit of a lesser heel, all to create the illusion of the three front men being of equal height. It seems like an odd thing to pick at but Shama, if anything, was a band of great detail. Jeff had always maintained that some of the 'larger than life' appeal of the band "KISS " was the fact that they wore huge platformed boots to create a bit of an on stage monster…you always knew who the stars of the show were at a KISS concert (aside from the makeup and stage pyrotechnics), and we were just utilizing that technology in our own way.
Another thing we used to great success was clothing. Everyone could wear whatever colour they wanted to on stage, as long as it was white! On top of that, our amps were painted white. Our mic stands were painted white, our drums and most of our guitars were white, and we brought along a white backdrop and white carpeting to every stage we set up on. Everything on the stage was painted white. It worked extremely well! Getting back to the lights now. If you turn 4 blue lights onto a completely white stage, the whole stage turns blue as it does with red and yellow. People thought we had a gigantic light show. We didn't. It was maybe 24 lights maximum plus a follow spot. Of course the illusion was created with all of that white bouncing back the colours. Guys abilities with the limited lighting we had at that time, rivals the best of things I've seen done even today. Amazing work, and he still talks about it himself to this day!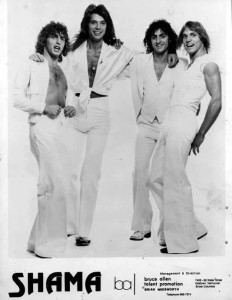 Shama 1978
I had mentioned pyrotechnics earlier. Shama used fire and smoke on stage, as well as chasing lights and fluorescent letters spelling out the word 'SHAMA" much like the way KISS always appeared with their name behind them. Our first 'flashpots' (for fire and smoke) were built for us by Mike Evans, who played in a band touring the prairies at that time called 'Candlewood'. (They later became "The Vacationers') Mike Evans was quite a wizard at electronics and we were at a loss that way. Once we had heard that he had made 'flashpots' for his band, we begged him to build some for us, which he did for some beers. (by the way, Mike remains to be a good friend to this day, and doesn't drink…lol)
We first started using the 'flashpots' just before Jigger joined the band. We decided to have our 'ignition switch' up on stage with us, because Mike Renault would probably not be able to see if an audience member was too close to one from his vantage point. At this point Mike was still running lights, sound and a spotlight, so it would be a bit to concentrate on. On top of that, 'Candlewood' had told us to be very careful with them, because one time they weren't watching and their bass player ignited a flashpot right underneath a girl that was dancing too close to the stage and set her on fire. Afraid they might get sued, the bass player asked the girl out on a few dates immediately. I guess it worked….
Speaking of 'Smoke bomb accidents'…. One Saturday afternoon in December of 1976 we were scheduled to do a 'sock-hop' all ages dance in the cabaret of the Westlander Motor Inn in Medicine Hat. Our ignition switch had been not working properly, so I set out to fix it before the show. I worked on it for about an hour and ignited a few 'blanks' to make sure that everything worked perfectly. I proceeded to load the gun powder onto the base covering the trip wire as per usual with the big load that we usually used and everything held fast. Very good, so I thought. We had protective canisters that went around the outside perimeter of the flashpots to prevent them from blowing out the sides and into the people dancing …and to make sure that our flames and smoke went straight up towards the ceiling. At this point that afternoon, the only thing left was to put those on. As the children stated filing in, I bent over the first flashpot to put the canister on. With my head about a foot above the pile of gunpowder I had just poured, the switch shorted and 'kablam'! I fell back into the drum riser as kids screamed (…the blast scaring the heck out of them). At this point, I was afraid to open my eyes in case I had blinded myself. As it turned out, all that had happened was, I had burned off my eyebrows and a good portion of my hair in the front, mainly to one side. Jigger was there that night when we played and took some great shots of me performing. In them I basically look like a ghoul, because he used a 'motion' effect on me…horrible!!!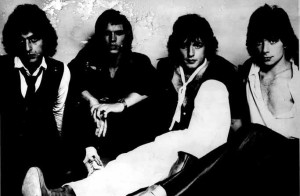 Shama 1979
The Infamous "SHAMA $50.00 Bill"
It was an ingenious marketing strategy dreamed up by Shama's 'manager of the moment', Dallas Goodmanson, who operated the Regina, Saskatchewan office of the Canadian prairie's leading music agency, "Nellis Booking Agency"
The idea was to literally 'spread' these fake fifties everywhere. On the front, when folded in half (note the crease down the middle of the front), it would look for all intents and purposes like someone had dropped a fifty dollar bill. We, of course, were hoping on people's greed and figured they would quickly scoop it into their pocket without looking at it twice.
When they would get to a 'safe haven', they would then unfold it and see our clever little ad on the other side.
As the investigating officers later told us, we had made some major mistakes when these 5000 items were printed. (YES! Five THOUSAND!)
First of all, it's illegal to have the queen on a fake bill (Other businesses have done this for instance, but always have used the back of the bill).
Also, it's illegal to have serial numbers on these 'fakes'. Also, although it did say 'SHAMA Money' and 'Will NOT pay to the bearer on demand', it DID, however, say Bank of Canada.
All of this added up to counterfeit… believe it or not!!!
There were apparently cases of street kids getting change for these $50's from people and running off before the people realized they had been duped.
That is why the police were initially called in.
Unfortunately, the band played (and spread these babies) everywhere in Western Canada, so these 'Counterfeit 50 dollar bills' made it from BC to Ontario in a very short period of time.
It seemed that we were questioned by police in every town we played for about a year and a half.
Because of our ignorance, the police took pity on us and we were never charged nor apprehended in any of the cases.
It DOES however, make for a good story.
The Infamous Shama $50.00 Bill